Being a fan of John Green, hearing that Paper Towns was being adapted into a movie was big news. The Fault in Our Stars had been an amazing book and film, equally as amazing and moving and re-watch/readable. Nothing could or should have been changed about TFIOS that would have improved it. It made you laugh in parts, cry in others, and knew exactly how to manipulate your emotions so it really was a rollercoaster.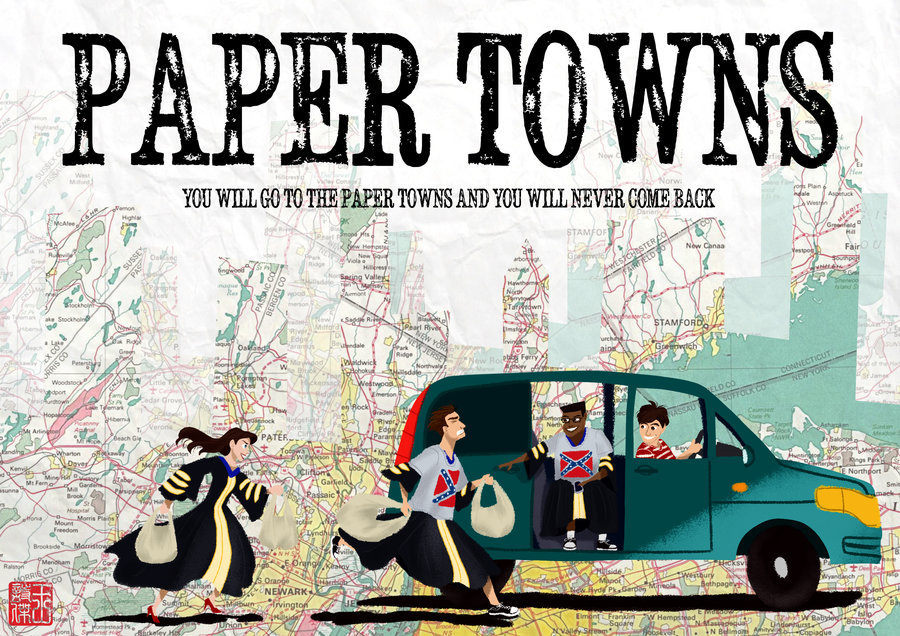 I got to see Paper Towns tonight at an advance screening that I was so glad to have found to save an extra three weeks of waiting to see this highly anticipated (on my behalf) film that has been publicised so well. Especially now, thanks to Cara and her awkward interview which appears to have gone somewhat viral. Definitely a big help as the film nears its UK release date but I'm sure it was just a crazy, unexpected incident....
I'll start by saying Paper Towns has its merits but on no level was it near TFIOS. I know it's unfair to compare films because they aren't all that similar apart from a general love story and an unexpected ending. Paper Towns was enjoyable, a really good film with an amazing soundtrack that I've been playing for weeks before seeing the film and probably for weeks from now, but it didn't particularly move me. I laughed in places but even the ending didn't even have me with a lump in my throat. Bear in mind that the Google advert once made me cry. It's not that hard. The ending of the book, in my opinion, could have been massively improved. John Green doesn't like stereotypical happy endings, fine, but at least have SOME kind of emotion. With no sadness and no happiness it end up feeling a bit "meh". The film tried it's hardest to deviate from that and actually improved it somewhat but the feeling that something was missing was hard to shake.
Nat Wolff as Q was perfect. His constant nice-guy smile, shyness and likability was perfect for the character. He's the kind of average seeming guy that Q is supposed to be. Really great casting.
Radar and Ben were well cast but I think Ben's character could have been fuller. He was funny but his character especially was left a bit shallow considering the amount of screen time he had.
Cara Delevingne as Margo was badly cast in my opinion. She overacted every single scene. She was a decent Margo but she wasn't the book's Margo at all. The book's Margo is supposed to be kind of average, like most girls, because she's a real girl and it's just Q's love/obsession of her that makes her appear perfect to him and we see through his eyes. Cara Delevingne is a supermodel with very few flaws and not really the "average" kind of girl. It's not Q making her out to be that beautiful/amazing/pretty because of his love, she just really is. Besides that, her performance was just too over-the-top for me.
*SPOILERS*
The biggest disappointment for me was the revenge night. WHERE WAS SEAWORLD?!?!!? The best part of the revenge night, they didn't even include!!! The best chapter(s) of the book, with the best laughs and the tension of sneaking in to Seaworld, and the emotion, and the will-they-won't-they reduced to a few stupid pranks and a slow dance in the tower. I was SO disappointed. I really thought that seeing it played out in a movie would be a million times better, they had such quality material to work with and play with, and it was funny but I expected so much more. I kept waiting for the big moment they broke in and how exciting it would be, and it just didn't happen. In the beginning when Margo asks Q to break into Seaworld with her and he says no, I thought that was an allusion to later in the movie when there would be a big "moment" where he would realise she was worth breaking into Seaworld for and they would have an amazing, revelation-filled time. Nope.
The road trip was pretty good, but shortened massively. The cow scene had people gasping and gripping their seats. When the three boys chat about high school I felt that it was really relatable for anyone who has left or who is leaving school and seemed really natural and real. This links to the end when Q realises his miracle was his friends all along, not "just a girl". The extra moments added to the film about his friendships with Radar and Ben added a new depth that helped shift the book's meh ending to one of hope and it gave the whole road trip real purpose. After the book finishes you're left feeling a bit like, "well what was the whole point in that?!?!" In the film it's nice because the purpose was actually a final event for them all to remember their best friendships by, to bring them closer as buddies and realise some truths to take with them to college.
Overall the film was pretty good, mostly well acted, no bland or boring bits, and the soundtrack was amazing. I probably won't rewatch it any time soon though and was left feeling a bit let down after expecting a lot more from the adaptation.
6/10
IMDb: 7.1/10
Rotten Tomatoes: 5.5/10